Data from 2018-22 Reveals 76.7 Percent of AVCA Phenom Program Participants Make College Rosters
Since 2012, the AVCA has hosted the Phenom College Prep Program, which features many of the top uncommitted high school girls volleyball players. One of the major indicators of the program's success is whether Phenom athletes play at the collegiate level, and recent AVCA research makes it clear: mission accomplished.
Among those who participated in the Phenom program and graduated between 2019-22, 76.7% have gone on to play volleyball collegiately. The best year was in 2021, with 78% of Phenom athletes ending up on a college roster.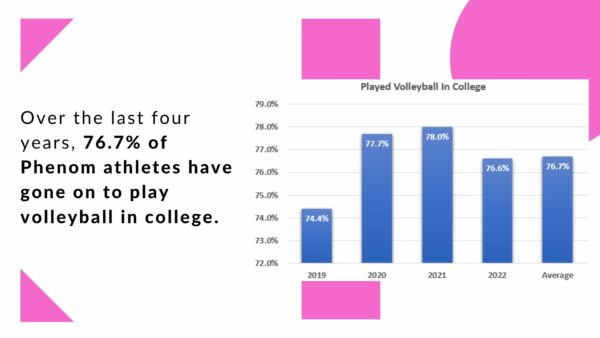 Phenom athletes go on to play at every level of college volleyball—NCAA DI, NCAA DII, NCAA DIII, NAIA, Two-Year College, CCCAA, NCCAA, and the Canadian Collegiate Athletic Association—the majority competing at Division I institutions. Across the four-year span, 38.1% of participants wound up at Division I schools, and 2022's rate of 42.4% was the highest.
The percentage of players attending NCAA Division I institutions increased for those graduating between 2019 and 2022, from 37.6% in 2019 to 42.4% in 2022. The next largest division was NCAA Division II, with an average of 16.6%. The number of athletes playing collegiately at any level was largely unaffected by the changes to NCAA recruiting and legislature between 2020 and 2022. (Click here to see additional data from the recent research)
As part of the program, Phenom athletes can display their skills during an in-person talent showcase in front of hundreds of college coaches that is held in conjunction with the NCAA Division I Women's Volleyball National Championship. Players are invited to participate based on their inclusion on the AVCA Phenom Watchlist or AVCA All-America Watchlist.
The success of the AVCA Phenom Program across its 11 years has come through the outstanding efforts made by AVCA-member high school and club coaches to identify and recognize their deserving athletes on a national scale.
The nomination period for both the AVCA Phenom and AVCA All-America Watchlists goes from May 8 through September 26. The 2023 AVCA Phenom and All-America Watchlists will be published on August 28, with uncommitted athletes receiving an invitation to register for the AVCA Phenom College Prep Program on September 27.
For more information, please visit the Phenom website. Please reach out to Alex Fitzmorris-Sorn with any questions regarding the AVCA Phenom or All-America Watchlists, as well as the avcaVPI™.