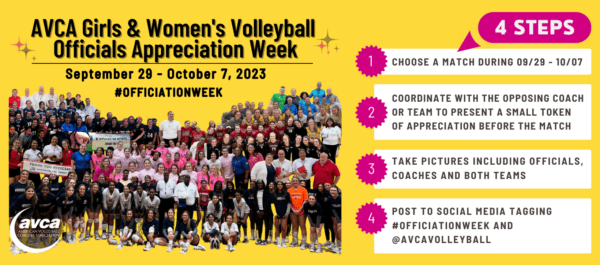 Participants  |  Instructions  |   Toolkit  |  Resources  |  History
AVCA Girls & Women's Volleyball Officials Appreciation Week
September 29 – October 7, 2023
September 29 – October 7, 2023, is the 3rd Annual American Volleyball Coaches Association (AVCA) Girls and Women's Volleyball Officials Appreciation Week.  This nine-day period is set aside to make sure our officials know they are part of the sport. As coaches, you are the leaders, student-athletes, parents, and fans will follow your example of ensuring that we treat our officials in a manner befitting their role in helping girls and women's volleyball become one of the United States most popular sports.
---
2023 Participants List
---
How Can You Engage?
Instructions to Participate: 4 Steps
CHOOSE A MATCH during the week of September 29 – October 7. NOTE: Coaches/teams can participate in more than one match during the week. For example, you might choose to recognize officials at a match as the Home team and work with another school to recognize officials at another match as the Visiting team.
COORDINATE WITH THE OPPOSING COACH/TEAM to present a small token of appreciation – goodie bag(s) or certificate of appreciation or something agreed upon – prior to the match before the coin toss. Please include both coaches/teams in the presentation. You can also post signs or banners; for example, "Thank you to tonight's officials! We appreciate all you do for volleyball!" TO MAKE THIS A POSITIVE EXPERIENCE FOR ALL, PLEASE DO NOT PUBLISH NAMES OF OFFICIALS ON PROGRAMS, FLYERS, BANNERS OR SOCIAL MEDIA.
TAKE PICTURES. The home team is responsible for pictures, though both teams may want to take photos to each share to social media. A photo that includes the officials, the coaches, and BOTH teams is highly recommended.
POST 1-2 PICTURES TO SOCIAL MEDIA, and tag @AVCAVolleyball and #OFFICIATIONWEEK. NOTE: You may also want to tag your state volleyball coaches and/or officials association, and/or state athletic association.
---
Look for even more ways to get involved?  Choose an IDEA to put into action from the 2023 AVCA #OFFICIATIONWEEK Toolkit.
---
Additional Resources
Check out these additional resources on becoming an official, sportsmanship, and officials appreciation.
---
2021-2023 #OFFICIATIONWEEK History
Now in its third year, #OFFICIATIONWEEK has become a proud annual tradition among hundreds of high school boys and girls, and college men's and women's volleyball teams from 32 states including D.C. The annual event is hosted by the AVCA High School Leadership Council. While the athletes, coaches and teams plan and lead the individual officials appreciation events, the national campaign's success is also credited to AVCA's Affiliate Program Partners; high school athletic associations; intercollegiate athletic conferences; public and private high schools and universities; and USA Volleyball Regions who encouraged their teams to participate.
2021 AVCA Volleyball Officials Appreciation Week
#OFFICIATIONWEEK was started by the AVCA in the fall of 2021, in response to the national shortage of high school volleyball officials. This 1st event was promoted to girls high school teams.
2022 AVCA Volleyball Officials Appreciation Week:
241 Participants | 26 States
The 2nd Annual AVCA #OFFICIATIONWEEK held September 30, to October 8, grew vastly from the its first year to include 241 participants in 26 states. While the week was primarily marketed to girls volleyball teams, participants included girls, boys, beach and women's volleyball. 
2023 AVCA Men's & Boys Volleyball Officials Appreciation Week:
122 Participants | 23 States
In Spring 2023, the 1st annual AVCA Men's and Boys #OFFICIATIONWEEK kicked off as a tremendous success with 122 participants from 23 states.
Start Date
September 29, 2023
Group
Beach

Club

College Women

High School

Youth